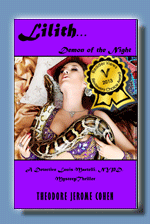 "With more twists and turns than a Boa constrictor, the venomous plot unfolds and transports the reader from a modern day high-tech crime fighting novel into the dark side of cult practices within the mind of a serial murderer fixated on revenge. Lilith is a trophy on any shelf."
~ Gary Sorkin for Pacific Book Review
Two Detective Louis Martelli, NYPD Mystery/Thrillers, Revealing Some of
Wall Street's and the
US Government's
Darkest Secrets

Murder and Intrigue in the Antarctic!

"A nasty little piece of skullduggery ..."
A master at creating an aura of mystery, suspense, and drama ..."
The culmination of the Antarctic Saga.

"Poised at the edge of a frozen crevasse."

Inspiration in realizing a life-long dream.

"Age is no barrier to setting goals."