Books by Theodore Jerome Cohen
Solly's dream is for his son Teddy to one day become a concert violinist. Eventually he comes to understand and to endure the heartbreak of knowing that the dream never will be realized. As Solly watches, life takes Teddy from gifted violin student to adult engineer and scientist, leaving no time for the career in music Solly so dearly wants his son to pursue.
In the end, there emerges the essence of redemption as Teddy returns to the violin late in life and fulfills his and his father's vision. The story, which is a work of fiction based on real events, will fascinate readers from ages ten to one hundred who are interested in radio, communications, and music and in how it was to grow up in a family whose members trace their heritage to that great wave of immigrants that crashed onto America's shores in the
mid- to late 1800s.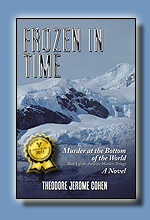 The trail from a major theft at the Banco Central de Chile in Talcahuano following the Great Chilean Earthquake of May 22, 1960 leads to Base Bernardo O'Higgins, a wind- and snow-swept Chilean Army outpost on the North Antarctic Peninsula. When Chilean Army 1SGT Leonardo Rodríguez fails to return from a seal hunt in the waters around the base, two Chilean Navy non-commissioned officers, CWO Raul Lucero and CPO Eduardo Bellolio, become LCDR Cristian Barbudo's prime theft and murder suspects. Fearing he will die, Barbudo reveals the identity of his two suspects to visiting scientist Ted Stone, thereby placing Stone's life in jeopardy.
But who can Stone trust with this information, if it comes to that, to see justice done? This story is a work of fiction based on real events that took place between 1958 and 1965. It is a tale of greed, betrayal, and murder—one in which the reader is given a window into the frozen world at the bottom of the Earth that few people ever will read about, much less experience. Among other things, it explores why, though seemingly unfair, bad things happen to good people; how the battle between good and evil can change forever even the most innocent person; and most of all, the role deception plays in Nature, Man, and Life.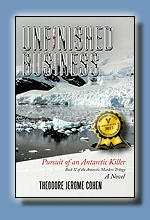 Unfinished Business: Pursuit of an Antarctic Killer
is Book II of The Antarctic Murders Trilogy. It continues the story of Captain Roberto Muñoz of the Lientur and the hunt for the millions of dollars in U.S. and British cash, negotiable securities, gold coins, and jewelry that were stolen from the Banco Central de Chile following the Chilean Earthquake of May, 1960.
The story of the theft and murders that followed is told in Book I:
Frozen in Time: Murder at the Bottom of the World
.
Unfinished Business
introduces Captain Mateo Valderas and Lieutenant-Commander Antonio Del Río of the Chilean Navy's Office of Internal Affairs. They have been sent to Arica, Chile, where the Lientur is undergoing repairs, to solve a murder that took place on the naval base. Their investigations uncover evidence that leads them to someone who is determined to settle old scores and wrap up 'unfinished business' on two continents—South America and Antarctica.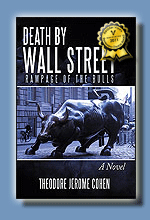 Death by Wall Street: Rampage of the Bulls
, a murder mystery, is based on real events. It is the story of how the oligarchs of Wall Street, doctors and others in the pharmaceutical research profession having significant conflicts of interest, and employees of two 'captured' US government agencies—the Securities and Exchange Commission (SEC) and the Food and Drug Administration (FDA)—by design as well as by simply refusing to pursue the evidence of malfeasance provided to them, deny patients life saving treatments that are demonstrated safe and effective in FDA-approved drug trials.
When the severed head of a Wall Street stock analyst turns up spiked on a horn of the Wall Street Bull, Detective Louis Martelli of the NYPD is assigned to track down the murderer. But why were this victim and the victims of two similar murders that followed singled out for execution? Martelli eventually learns the answer to this question and tracks down the killer, but not before uncovering some of Wall Street's and the US government's darkest secrets pertaining to the US financial markets and the nation's health care practices.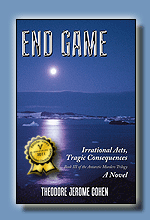 In many ways,
End Game
brings to an end three things: the sagas of Captain Roberto Muñoz of the
Lientur
; the hunt for the millions of dollars in U.S. and British cash, negotiable securities, gold coins, and jewelry stolen from the Banco Central de Chile following the Chilean Earthquake of May, 1960; and the murders that follow the robbery.
The return of American scientists Ted Stone and Grant Morris to Santiago for the purpose of helping personnel of the University of Chile prepare for the 20th Chilean Expedition to the Antarctic, beginning in December 1965, jeopardizes the lives of both scientists. What 'irrational act' will elicit the tragic consequences that finally bring everything to an end? This answer and more is in Book III:
End Game: Irrational Acts, Tragic Consequences
.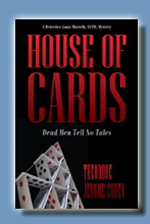 House of Cards: Dead Men Tell No Tales
, a murder mystery, is based on real events. It is the story of how the major banks and hedge funds in this country created, marketed, and sold junk mortgage-backed securities to unsuspecting customers while, at the same time, they offloaded their risks through the purchase of 'insurance' from a major Wall Street insurance firm. When the head of one of the largest investment banking and securities firms in the United States is assassinated on Times Square in the middle of New York City's annual celebration of Halloween, the Festival of the Dead, Homicide Detective Louis Martelli is one of the first on the scene. Working quickly, NYPD Information Technology Specialist Missy Dugan quickly identifies the assassin, but the case rapidly spirals downward into a maelstrom of death and intrigue linked both to the financial meltdown of 2008 and international terrorism. Who was behind the murders, and why did the Federal Bureau of Investigation (FBI) attempt to shut down Martelli's investigation before it even got started? Martelli eventually learns the answers to these and other questions as he tracks down the killer, but not before uncovering some of Wall Street's darkest secrets, including a plot by two institutions to fund Islamic terrorism.
House of Cards has received a Reader Views Literary Award.
Second place in the 2012 category: Societal Issues (Politics/Society/Etc)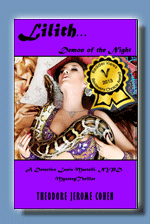 Lilith ... Demon of the Night
When a man dressed in a long priest's robe and wearing a black, low-crowned, wide-brimmed ecclesiastical hat walked into a Catholic church just prior to the start of a funeral service, stuffed garlic into the deceased's mouth and pumped a bullet into the corpse, NYPD Homicide Detective Louis Martelli is as puzzled as he's ever been on a case. No stranger to the macabre, Martelli is even more mystified by Deputy Coroner Michael Antonetti's findings, which confirm that the deceased, far from having died of respiratory failure and a possible heart attack, was murdered by someone who injected him with a lethal dose of Philippine Cobra venom. When other, similar deaths are uncovered in and around New York City, the investigation conducted by Martelli and his partner, Detective Sean O'Keeffe, takes a decidedly morbid turn, leading to the discovery of a modern-day vampire cult, a woman named 'Lilith,' and a serial killer with a score to settle. Who is behind the killings, and can Martelli and O'Keeffe stop him before he kills his last victim and makes good his escape? The answers to these and other questions will be found in this gripping, modern-day tale of vampirism unlike any you have read.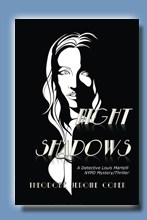 Night Shadows
When a wealthy Wall Street commodity futures trader is found dead in his townhouse of an apparent drug overdose, Deputy Coroner Michael Antonetti, NYPD, is suspicious. Antonetti tells Detective Louis Martelli he suspects what appears to be a suicide may in fact be murder. After a similar case is discovered involving a former friend of the Wall Street trader who played on the same high school football team almost twenty years earlier, Martelli is convinced he is dealing with someone bent on revenge. But the two teammates who ostensibly committed suicide were part of an elite three-man squad known as The Flying Horsemen. This convinces Martelli there will be a third victim. But who might it be, and could the killings have anything to do with the rape and suicide of some of the men's former high school classmates? The answers will be found in this mystery/thriller that will keep you on the edge of your seat until the very end.
(Adult language)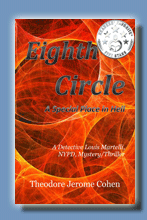 Eighth Circle
When the mayor of New York City's grandson and the grandson's wife are murdered execution-style in their Tribeca apartment, NYPD Detective Louis Martelli and his partner, Detective Sean O'Keeffe, are left completely in the dark. Months go by without any actionable leads until a meeting with the wife's doctor and the bizarre torching of Stephanie Martelli's car turns the investigation upside down and land Martelli and O'Keeffe in the hotseat. When an old friend of Pietro Martelli, Louis's deceased father and a former street cop who had been gunned down in the line of duty, sends Martelli a note asking for a meeting, things take an even stranger turn. The evidence in this mob-driven case of political corruption, bribery, and murder pits the two detectives against their boss, Captain Hanlon, NYPD Commissioner of Police Eugene Fields, and His Honor the Mayor. Can Martelli and O'Keeffe survive this kind of pressure and keep their jobs, much less solve the case? You'll have to read Eighth Circle to learn the answers.
(Adult language)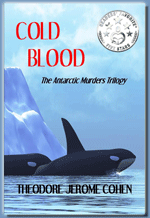 Cold Blood
Now, for the first time, the three books that comprise
The Antarctic Murders Trilogy:
Frozen In Time
,
Unfinished Business
, and
End Game
are available in one volume:
Cold Blood . . . the Antarctic Murders Trilogy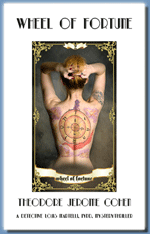 Wheel of Fortune
Even as a child, Katlyn Lundquist was drop-dead gorgeous. She also was willful. In her teens, perhaps out of spite, she created her own name and persona. As she grew up, she readily accepted money and gifts from her parents but thumbed her nose at society in general and her parent's way of life in particular. A seeming infatuation with Tommie Lupinacci, head of a major crime-infested cartage association based in Brooklyn, led her to move east with the mobster. But when she showed up dead with a bullet in the back of her head, NYPD Detectives Louis Martelli and Sean O'Keeffe were stumped. If this were a mob hit, why dump her body in plain sight? Moreover, who was she and what was the motive for killing her? The investigation leads to the area around Lundquist's hometown in eastern Pennsylvania and to the mob's efforts to take over the trash hauling and recycling business in Lancaster and York, PA. It's only after Martelli brings IT Specialist Missy Dugan into the case that he and O'Keeffe are able to unravel the mystery.
(Adult language)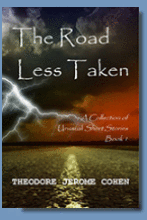 The Road Less Taken
A collection of unusual stories, vividly brought to life in this first book-length assemblage of sojourns into the unexpected by master storyteller Theodore Jerome Cohen.