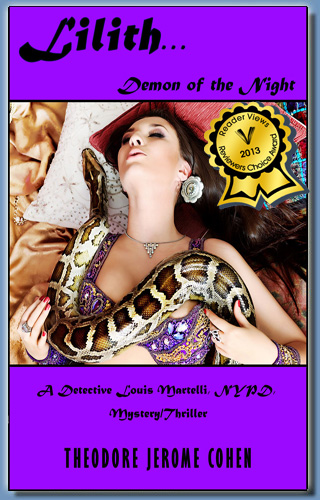 Available in the Following Formats
E-book ISBN: 9780984920907
Paperback ISBN: 9780984920990

Lilith ...
Demon of the Night
When a man dressed in a long priest's robe and wearing a black, low-crowned, wide-brimmed ecclesiastical hat walked into a Catholic church just prior to the start of a funeral service, stuffed garlic into the deceased's mouth and pumped a bullet into the corpse, NYPD Homicide Detective Louis Martelli is as puzzled as he's ever been on a case. No stranger to the macabre,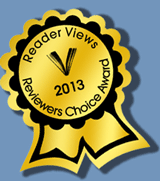 Winner!!
Fantasy: 2nd Place
e-Book: First Place
Martelli is even more mystified by Deputy Coroner Michael Antonetti's findings, which confirm that the deceased, far from having died of respiratory failure and a possible heart attack, was murdered by someone who injected him with a lethal dose of Philippine Cobra venom. When other, similar deaths are uncovered in and around New York City, the investigation conducted by Martelli and his partner, Detective Sean O'Keeffe, takes a decidedly morbid turn, leading to the discovery of a modern-day vampire cult, a woman named 'Lilith,' and a serial killer with a score to settle. Who is behind the killings, and can Martelli and O'Keeffe stop him before he kills his last victim and makes good his escape? The answers to these and other questions will be found in this gripping, modern-day tale of vampirism unlike any you have read.
(Adult language)
Praise for Lilith
"Fast paced with snappy dialogue, likeable characters, and a touch of Middle Eastern mythology, this is a book that I could really sink my teeth into."
~ Paige Lovitt for Reader Views
"With more twists and turns than a Boa constrictor, the venomous plot unfolds and transports the reader from a modern day high-tech crime fighting novel into the dark side of cult practices within the mind of a serial murderer fixated on revenge. Lilith is a trophy on any shelf."
~ Gary Sorkin for Pacific Book Review
"Given the real-life vampire cases cited in the novel, one has to wonder if this isn't another of Cohen's 'ripped-from-the-headline' stories. Why aren't Hollywood producers calling about this gem?"
~ Irene Watson, Author of The Sitting Swing and Rewriting Life Scripts
"I've had a fascination with vampires ever since Italian researchers believe they found the remains of a female vampire from 16th-century Venice, buried with a brick in her mouth to prevent her feasting on plague victims. This macabre thriller will keep you on the edge of your chair to the very end."
~ Susan Violante, Author of Innocent War: Behind An Immigrant's Past